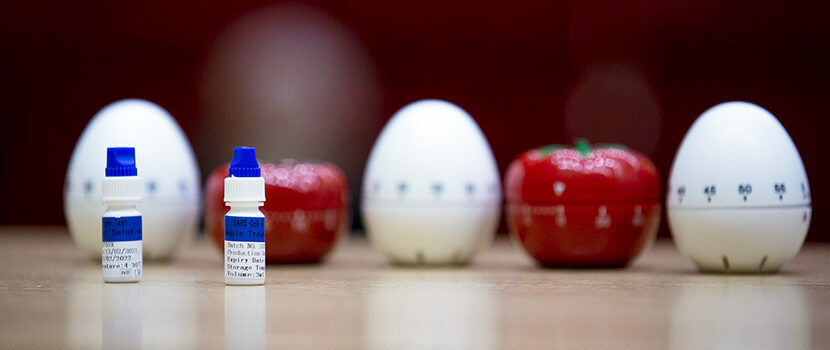 UJEP is testing its students
The protective measure of the Ministry of Health (Amendment No. 1 to the Government resolution of April 19th 2021 No. 393) extends the online schooling at all universities from the 26th of April until further notice. It, nevertheless, allows attending the lessons in person in case of practical, laboratory, experimental and artistic classes and practical training. The necessary conditions of personal attendance are: wearing a proper respiratory protection mask, the absence of Covid-19 symptoms, and the testing of all students.
Testing of all students at the Jan Evangelista Purkyně University (UJEP) is regulated by the Rector's order No. 2 on testing the students for SARS-CoV-2 virus occurrence.
The prohibition of students' personal attendance is therefore further valid with the exceptions allowing the following:
– personal attendance of an examination, provided there are max. 10 persons attending the examination at the same time,
– personal attendance of individual consultations or consulting services (only 1 student and one consultant),
– personal attendance of clinical and practical lessons and of the practical training in the last year of the study,
– personal attendance of the clinical an practical schooling as well as practical training, provided for students of the medical study programs (medicine, dental medicine, pharmacy and other medical study programs)  and for students carrying out their practical schooling and training at nursery, elementary and secondary schools or at institutions practicing institutional and protective education.
Admission exams are allowed to take place provided there are max 20 persons at the same time in one room. Exceptions from the prohibition to sing and carry out sports activity are allowed provided these are crucial part of the education (in case of the singing the exception is valid for max 6 students in one room at the same time).
All persons within the interior of the university buildings are prohibited to move around without protective respiratory masks covering the mouth and the nose, these being a respirator or analogous device (always without the expiratory valve) in compliance with all the technical conditions and requirements (for the product) including the min. filtration efficacy of 94%, as per relevant norms (e.g. FFP2, KN 95). Exceptions from this prohibition are regulated by the section I., paragraph. 3 of the protective measure MZDR 15757/2021-47/MIN/KAN.
The regulation prohibiting the universities to provide within the premises of the university college an accommodation for university students with another CZ residence continues to be valid with the exception of students allowed to attend the education as per the exceptions described above.
We kindly ask all students to follow the information updates of their respective faculties.